GST practitioner in Delhi NCR, GST auditor, GST returns filing
GST practitioner in Delhi NCR, GST auditor, GST returns filing
GST practitioner in Delhi NCR, GST auditor, GST return filing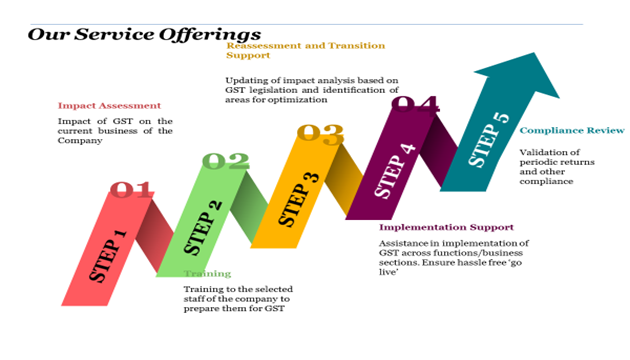 Under GST, following kinds of services are provided by RSA Legal Solutions:
GST Advisory and consultancy
Impact Assessment on the current business of the Company
Advisory on GST related issues such as registration, place of supply, export- import under GST, works contract, mixed and composite supplies, returns, composition scheme and other issues arising out of interpretation of CGST Act, SGST Act, IGST Act and rules and notification;
Advisory related to transitional provisions;
Issues related to classification under GST;
Issues related to GST rates;
Contract review from GST perspective;
Advisory related to advance ruling etc.
Training:
We conduct industry specific seminars so that issues can be addressed properly.
Key topics that are covered in Seminar are:
Goods and Service Tax-Concept
Key sections and rules of GST law
Analysis of following points:
Refunds,
returns,
input tax credit,
litigation etc.
Impact of GST related to business of the Company
Transitional Provisions
Loopholes under GST law
Implementation Support:
We prepare an exhaustive report which focus on GST impact assessment, implication, procedural suggestions, action and safeguard for GST implementation.
Health check-up:
GST laws are subject to frequent changes and amendments. At times, it is difficult to track these changes and ensure timely implementation. It is a good practice to undertake a regular health check or review (annual or half yearly) by Companies to ensure that no changes or amendments having significant impact are missed altogether.
Compliance Services:
We assist our clients in relation to compliance related services such as:
Registration;
Refund;
Return;
Filing of LUT/Bond under GST law;
GST practitioner in Delhi NCR, GST auditor, GST return filing,